HOW BUSY BEE WORKS
Connecting to your Cloud Accounts
Busy Bee will work remotely by accessing your Cloud Accounting System (ie Quickbooks Online, Xero, etc.).
You will need to add Busy Bee as a 'User' to your Cloud Accounts and provide a Username and Password.
Busy Bee will then be able to work remotely.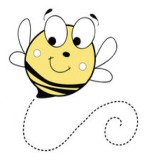 Sending Documentation
In order for Busy Bee to carry out a Bookkeeping Service, certain documentation will
be required from you, such as Supplier Invoices, Credit Card/Debit Card Receipts, Bank/Credit Card Statements, etc. It is imperative that these are received on time by
the requested date. Documents can be issued in the following ways:
- Bulk scanned and emailed to Busy Bee on a weekly basis.
- By Post - recorded or special delivery is recommended.
- Depending on your location Busy Bee may be able to provide a Collect/Return Service.
Online Digital Filing
All your documentation will be scanned and saved methodically into your Cloud Accounting System. Documents will be saved so they are easy to find for future reference. HMRC state that they do not require general bookkeeping paper documents anymore so long as you have digital copies, so you can decide whether to have the paper documents returned to you or for Busy Bee to appropriately shred them. Of course, all shredded paper will be recycled!
Communication
Being a 'Virtual' Bookkeeping Service doesn't mean lack of communication, Busy Bee understands the importance of Clients knowing exactly whats happening with their accounts. However, you can have as much or as little communication as you wish. You will be regularly up-dated via e-mail and you can make contact anytime via e-mail or mobile phone. Depending on your location monthly meet ups may also be arranged. And, of course, you still always have access to your Cloud Accounts wherever you are.
Busy Bee is happy to discuss any of the above with you
and answer all your questions - no matter how many!